About Listverse
Listverse is a place for explorers. Together we seek out the most fascinating and rare gems of human knowledge. We write, we read, we learn—and in the process, we have fun. Every day we publish three or more amazing lists packed with as many new facts as possible. You will always leave Listverse smarter than when you arrived. Guaranteed.
Come in and join our tribe of enthusiastic and friendly folk. People just like you—crazy about learning something new and, more importantly, something you can tell your friends about. Listversers are the smartest people at the party!
Overview
Listverse—the original Top 10 site—serves over 30 million pages a month to more than eight million readers. We publish lists that intrigue and educate, specializing in the bizarre or lesser-known trivia. Every day we present three or more new, unique lists.
Listverse has been featured on BBC Radio, Radio Scotland, Alabama Radio, BBC Television World News International, PBS, Gizmodo, and in the New York Times. We are often featured on the front pages of popular social networking sites.
We regularly publish lists sent to us by readers and pay $50 for each. Please view the submissions page for more information.
Disclaimer
The contents of any lists, comments or other published content on Listverse Limited's website(s) are not the views or opinions of Listverse Limited, its related entities, or staff. Listverse Limited accepts no liability in respect of any material posted on its website(s), nor is Listverse Limited responsible for the content and accuracy of that material.
Any reliance placed on material posted on Listverse Limited website(s) is done at your own risk.
Contact Listverse

You can contact Listverse by using the contact form below. More information about advertising opportunities can be found in our advertising brochure.
Please note that we do not accept infographics or text links.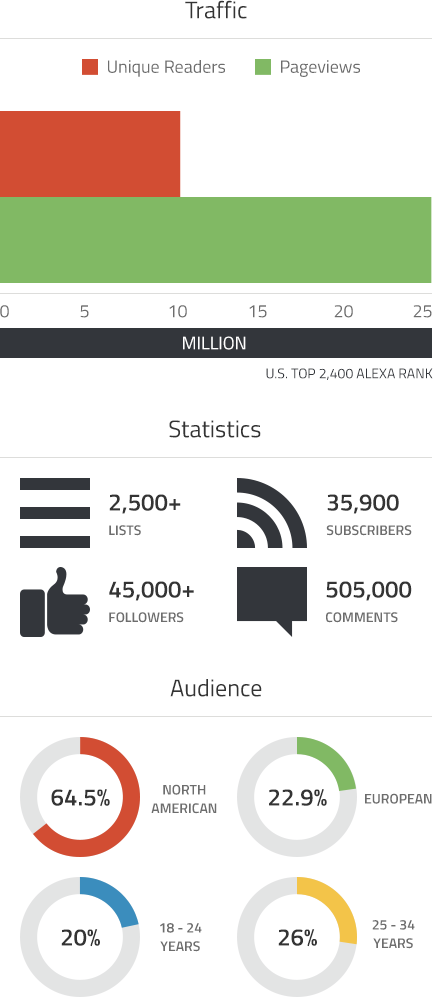 Jamie Frater
Chief Editor
Jamie Frater on Twitter
Jamie Frater on Facebook
I started my professional life as a software developer until I moved to London to do postgraduate studies in opera at the Royal College of Music.
Due to an insatiable desire to share fascinating, obscure, and bizarre facts, I created Listverse and left the singing for the shower. I currently divide my time between managing this site, learning about all things obscure, and trying to find time for a social life.

Judy Richardson
Moderator
Judy Richardson on Facebook
Happily married, 48-year-old mother of four boys. Proudly Canadian, socially liberal, fiscally conservative, opinionated, and interested in everything. Well almost everything—will give a pass on pop music. A little late on board the Listverse bandwagon—partway into the first year. Admin style? As little as possible; our community does a great job of self-policing.